Der deutsche Schäferhund in Wort und Bild
Rittmeister v. Stephanitz, 8. Auflage, Verlag des "Verein für deutsche Schäferhunde (SV)", Druck von Anton Kämpfe, Jena, 1932 (D) 1*

 
 
This famous German Shepherd standard work - published on behalf of the "Verein für deutsche Schäferhunde (S.V.)", based in Munich, appeared for the first time in 1901. In this volume, up to the 6th edition (1921) which is available to me, one finds unflattering statements on the Scottish Shepherd Dog (Collie), but nothing yet on the "Shetland Zwergschäferhund (Sheltie)". In the 8th edition (1932), however, there are the quoted lines on the "Shetland Sheepdog" including a photo of Ch. Larkbeare Rusk, breeder & owner: Miss Clara Bowring, GB. 
Perhaps someone can tell me something about the contents of the 7th edition of this book - is there anything about the Sheltie and if so, is the text identical?
Page 247-248: " ... Auf den Shetlandinseln, also dort, wo auch die Zwergpferde gezüchtet werden, gibt es dann auch noch eine Zwergform des Collies, den Sheltie. Diese in Haar und Farbe durchaus collieartige Zwergform soll nach Bartons "Kennel Encyclopaedia" nur 30-31 cm Rüdenhöhe bei bis 5,5 kg Gewicht haben, auch wenig fruchtbar, aber ausgezeichnet zum Gebrauch bei Schafen, Kühen und Ponnies sein. E. Ash berichtet im "Practical Dog Book", daß schon vor bald 250 Jahren die Haltung dieses zum Fang der ganz verwilderten Schafe bestimmten Hundes ortsobrigheitlich geregelt war; für jedes vom Hund in Gegenwart eines Zeugen gefangene Schaf erhielt sein Besitzer zwei Schillinge."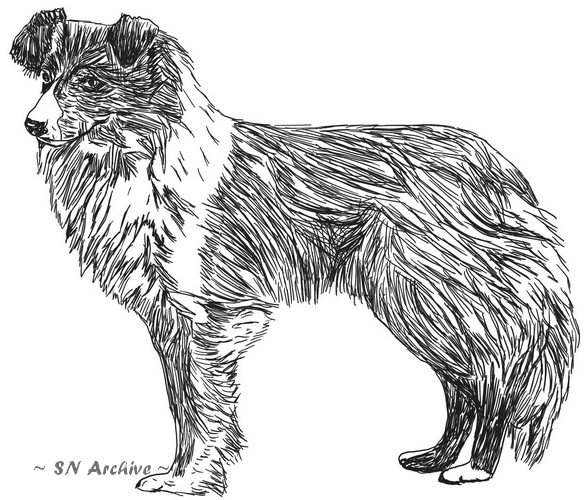 ---
If you discover any errors in the text that may have been caused by the transcription, please let us know for a prompt correction.
*1 Original in Eva-Maria Krämer collection