Rassehunde von heute
Charakteristik, Entstehung, Rassekennzeichen
Dr. Aloys Fink, Verlagshaus Reutlingen Oertel & Spörer, about 1961 (D)

 
 
This 460-page conscientiously compiled canine work by the VDH allrounder judge Dr. Aloys Fink is a very detailed guide to the pedigree dogs known in Germany at that time and their standards.
Unfortunately, there is no publication date in my book (without dust jacket), which I received from Alfons Unkel (Collies & Shelties "vom Birgittenkloster"). According to my research, however, it must have been published around 1961.
The Sheltie pictured in the Shetland Sheepdog chapter is Sgr. Riverhill Robin Goodfellow (a s/w dog), breeder: P.M. & F.M. Rogers, GB, owner: Jos. Eberhard jr., D, who was born in 1957.
Page 266-268: "Der Shetland Sheepdog
Sheltie
Das unwirtliche Klima der Shetlands, die feuchtkalten Winde, die harten Winter und kurzen Sommer jener kleinen Inselgruppe nordwestlich von Schottland lassen kein üppiges Wachstum der Pflanzen und Tiere zu. Die spärliche Weide gibt Nahrung nur für kleine und genügsame Tiere. Klein sind daher die Pferde, jene reizenden Ponys, klein sind die Schafe, die sich mit dem kargen Gras abfinden, klein ist auch der Schäferhund, der sie hütet. In seinem Äußeren ist er die Zwergform des Collie. Lange blieb er im Verborgenen als ein zuverlässiger Hüter der Schafe. Erst spät kam er nach England, wo man seine Reinzucht begann.
Aus dem kleinen Hütehund wurde ein beliebter Haushund, dessen Eigenschaften, vor allen seine Genügsamkeit in der Haltung und seine zierliche Erscheinung, ihm auch in Deutschland manches Heim öffneten.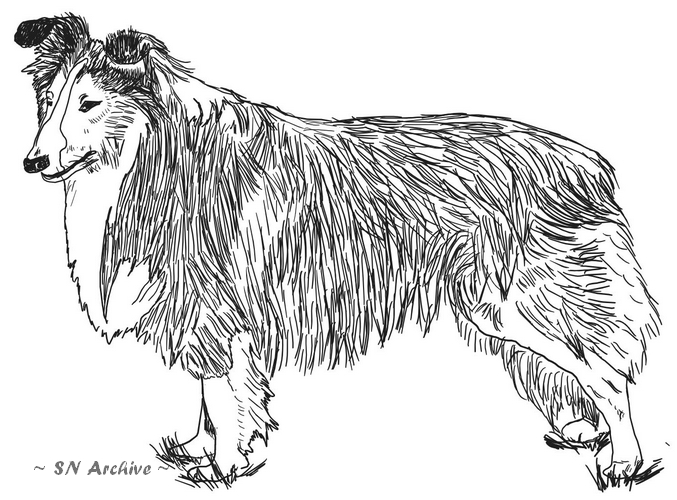 Rassekennzeichen
Allgemeine Erscheinung:
Die Allgemeinerscheinung ist die eines langhaaringen Collie im Kleinen (der Collie-Typ muss vorhanden sein). Ausdruck lebhaft, freundlich und intelligent. Gänge geschmeidig und anmutig; Geschwindigkeit und Sprungkraft groß im Verhältnis zur Größe des Hundes.
..." (see standard of the time)
---
If you discover any errors in the text that may have been caused by the transcription, please let us know for a prompt correction.