The Observer's Book Of Dogs
Clifford L.B. Hubbard, Frederick Warne & Co. Ltd., 1962 - reprinted (GB)
edited by Sonia Lampson, Frederick Warne & Co. Ltd., 1973
- revised edition, reprinted 1973 (GB)
 
 
I bought this paperback at an Antique Fair in Bury St Edmunds in 1985. In it, "Doggy" Hubbard describes over 300 breeds, which are illustrated with about 150 photos. The Sheltie is represented by a rather high legged but attractive dark sable/white with blaze. It was provided by the well-known British photographer Thomas Fall. In the foreword, the author thanked, among others, Mrs. L. Egg-Leach from Winterthur (CH) for her help in producing the book. Mrs. Egg-Leach was a pioneer of the Swiss Sheltie scene.
Page 142: "SHETLAND SHEEPDOG
Peerie Dog; Toonie Dog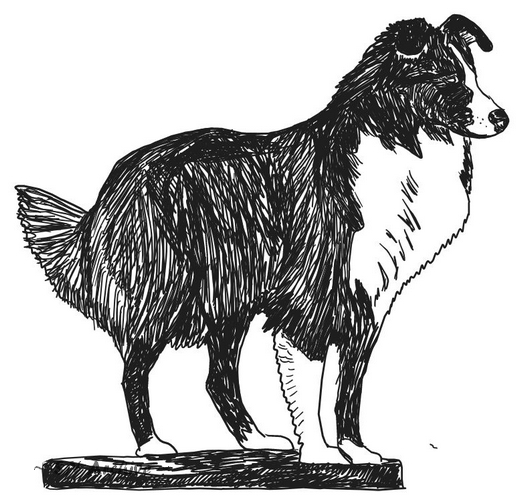 The celebrated Shetland Pony is really diminutive - so also is the Shetland Sheepdog. A perfect Collie in miniature, the Shetland is efficient and nimble, slowly becoming known among the multitude of competitors. It was originally bred in the Orkneys and Outer Hebrides as far as St. Kildas, from small sheep-herding Collies taken there from Scottish mainland about 150 years ago. At Lerwick in 1908 the Fancy was sufficiently strong to found the Shetland Collie Club (a title which a year later was changed to the Shetland Sheepdog Club), and from then onwards this Collie-bred race became established. In the Americas it is gradually becoming better known.
Height 12-15 in. Weight about 14 lb. Colour sable, sable-and-white, tan-and-white, tricolour, blue-merle and black-and-tan. Coat long with frills, leg-featherings and tail-brush, the undercoat soft and dense."
---
Actually I was looking for the 1966 edition, which shows a s/w Shetland Sheepdog on the cover. Unfortunately, there was a misdirection (1966 no longer available) and I was sent the revised 1973 issue, which contains a photo of the tricolour bitch Ch. Bramble Of Wytchfields. Since the breed text is different, I also quote it here.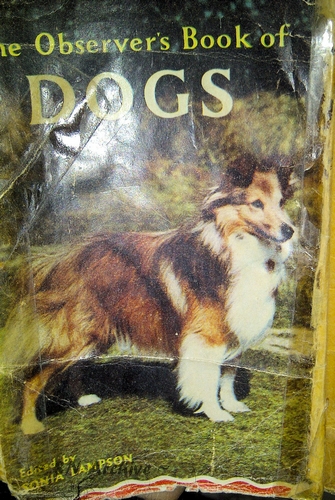 Page 129: "Shetland Sheepdog
Peerie Dog; Toonie Dog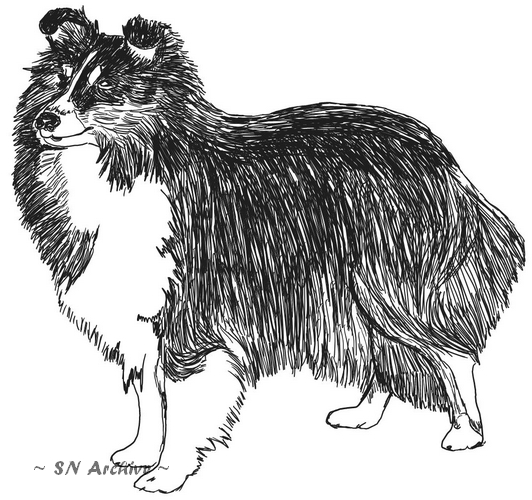 The Shetland Islands are the home of diminutive ponies and sheep and it is understandable that the latter should be taken charge of by diminutive sheepdogs with a strong resemblance to a small-sized Collie. In the Zetland dialect these were known as 'peerie' or fairy dogs. Collie breeders were strongly against the breed becoming known as Shetland Collies and after discussion the breed title of Shetland Sheepdog was accepted in 1914. The breed's charm has won it many admirers on both sides of the Atlantic.
Height 14 in. Colours black and tan with white, black with white, sable, sable with white, black with tan, blue-merle and blue-merle with white. Outer coat long, harsh and straight with soft undercoat. Definite mane. Ears semi-erect when alert. Tail long with abundant hair."
---
If you discover any errors in the text that may have been caused by the transcription, please let us know for a prompt correction.