Your Dog
The Ped And Livestock Series
Robert Leighton, Cassell & Co. Ltd., GB, 1925 ?
 
 
My edition of this book - a gift from a dear friend - is a kind of paperback with 108 pages plus some advertisements - unfortunately without a year. The preface does not mention any edition published before. The illustrated Sheltie shows "MISS C. BOWRING'S LARKBEARE RUSK. Bred by MR. G. HOGGAN" (This dog was born 1922 and although in the book it isn't mentioned, he received his GB Ch. title 1924.) I found at least 5 editions of the book on the net up to 1952, but they were hardcover and had more pages.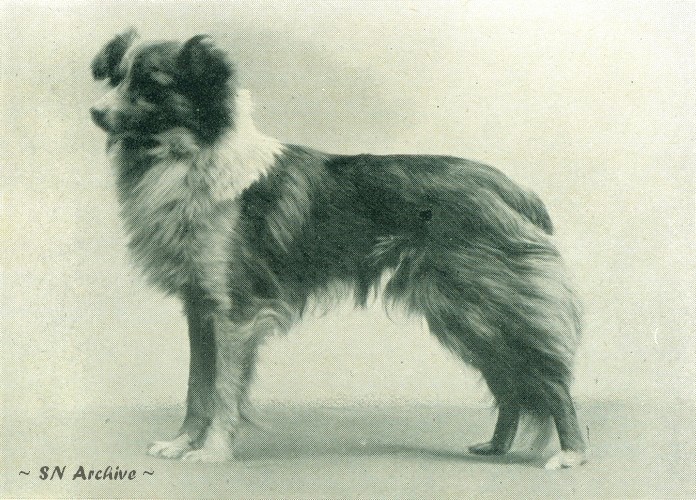 Page 32-33: "If a pastoral dog is desired as a pet, there is a miniature version of the collie in the Shetland Sheepdog - a delightful little chap, possessing all the collie's good looks and sagacity. Standing no more than 14 inches at the shoulder, these midget sheepdogs are smaller than the cocker spaniel and hardly as heavy as the Sealyham terrier. They are used for work on the pastures in the Shetland Islands, where the sheep are small; but they have recently come into great demand in the south as very engaging companions. This growing popularity is not surprising; for, apart from being a native British dog, the 'Sheltie' has many claims to consideration. Less boisterous than the terrier, less exacting than the toy, he is mentally and physically active and of convenient size for keeping in the house. Beautiful in colour and shape, with bright expressive eyes and lovely ears, he is affectionate, obedient, interesting, cleanly in habit, and an excellent watch. His silky coat is as impervious to water as the proverbial duck back, and he does not come in on a wet day draggling with mud and moisture. I consider him quite an ideal little dog for a family whose accommodation is limited, and he is appropriate for either town or country.
In conformation, the Shetland sheepdog differs from the typical show collie only in his smaller size and in the minor points that in the Shetlander the head is less long, the face less aquiline and the texture of the coat more silky. The colours are similar - black and white, golden sable, or black and white with tan markings. He should not be regarded as a toy dog, to be petted and pampered. However much his exterior charms and sweet disposition may be appreciated, it is not to be ignored that he is a utility dog, inheriting all the qualities of active brain and bodily endurance which fitted his forebears for working among flocks."
---
If you discover any errors in the text that may have been caused by the transcription, please let us know for a prompt correction.