Dogs And How To Know Them
Edward C. Ash, M.R.A.C. (Dip.). F.R.M.S., etc., The Epworth Press, London, GB, 1925 (1st edition)
On page 66 of this 88-page booklet there is only a six-liner about the Shetland Sheepdog, but on page 67 there is a very successful black and white drawing of the first blue CC winner Peat (Grey's), *30.1.1916, KCSB 1205 W (Clifford Sharper x Braeheads Rena), breeder: Mr. Walter Barnard, a blue, tan & white male, who is described as uniformly blue (among other things: "a blue without being a merle"¹, "He was not a blue merle, but a solid-coloured blue or grey dog."²).
Very interesting is also the reference list at the end of the book, which lists all published dog books from 1800 to 1925.

Page 66:

Page 67: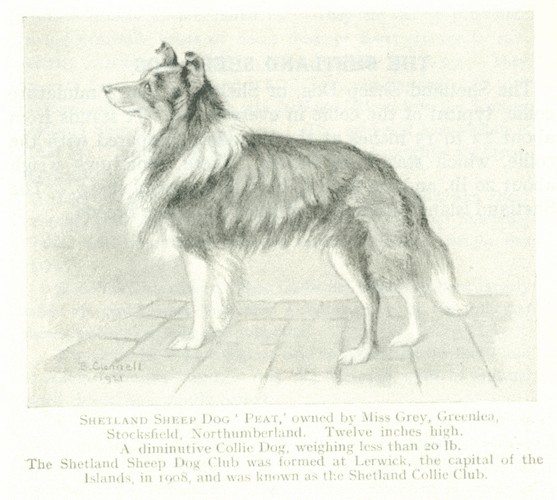 Page 81: "Shetland Sheep Dog. – Points of this breed same as Rough Coated Collie (p. 66) (see Illustration, page 67)."
¹THE SHETLAND SHEEPDOG, Catherine E. Coleman, published by W.W. Gallagher, J.N. Levine, A.R. Miller, USA, 1943
²Beginnings: The Island Dogs, Catherine J. Burton, Sheltie Pacesetter Jan./Febr. 1985, US
---
If you discover any errors in the text that may have been caused by the transcription, please let us know for a prompt correction.